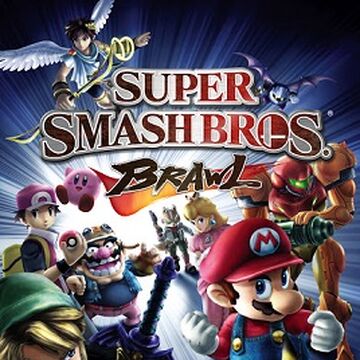 Super Smash Bros. Brawl is the third installment of the Super Smash Bros. series. This game was first released on the Nintendo Wii in 2008. Super Smash Bros. Brawl added important staples to the Super Smash Bros. series, one of the biggest ones being the addition of Final Smashes and a story mode, Subspace Emissary.
Princess Daisy is once again not playable in this installment of the series but is heavily referenced to throughout the game.
Peach's Daisy Outfit
Once again, Princess Peach is playable and has an alternate costume inspired by Princess Daisy. This time, the color scheme of the alt is updated to be based on Daisy's redesign from Mario Party 4. However, unlike in Melee, the alt doesn't have any significant differences from Peach's default dress in terms of model, instead simply being a recolor.
Trophy
Unlike in her previous trophy, Daisy doesn't wear a yellow dress in her trophy. Instead, Daisy wears her athletic gear from Mario Strikers Charged. Daisy's trophy is thus given the apt title of Strikers Daisy. This trophy is No. 47 of the 544 featured in Super Smash Bros. Brawl. It is proceeded by a trophy of Mario in his Charged get-up.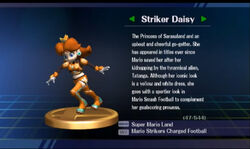 Stickers
Stickers are exclusive to Brawl. They are collectable items that can be used during the Adventure Mode, Subspace Emissary, to strengthen a character in one way or another. Daisy is featured in two stickers, both of them which provide offensive advantages. Her artwork in her two stickers are taken from Super Mario Strikers and Mario Party 7.
| Image | Name | Effect | Characters |
| --- | --- | --- | --- |
| | Daisy | Attack +5 | All |
| | Peach & Daisy | Attack +27 | Peach and Zelda |
Trivia
Underground Theme (Super Mario Land) is a remixed version of a song that plays in the Easton and Birabuto Kingdoms of Sarasaland in Super Mario Land that plays in the Mushroomy Kingdom stage. Brawl marks this remix's first usage.