Jurassic World: Dominion Dominates Fandom Wikis - The Loop
Play Sound
"Daisy is a feisty girl who loves to get dirty and play with the rest of the crowd. Luigi has quite a crush on her, and it's rumored there is an attraction between the two. Waluigi also happens to have a crush on Princess Daisy, which may well cause some trouble at the party..."

Daisy's Guide Bio, Mario Party 4
Mario Party 4 is the fourth installment of the Mario Party series, released on October 21, 2002 for the Nintendo GameCube.
Daisy returns for a second party in this game - once again voiced by Jen Taylor - and debuts her most memorable design. Gone was the back-length hair, reddish-pink hair and yellow dress with white designs of old. In came tomboyish short hair, gold crown, and yellow dress with orange panniers of today. Unlike in Mario Party 3, Daisy is playable in all modes of the game, which would be the norm from now on.
Daisy's Present Room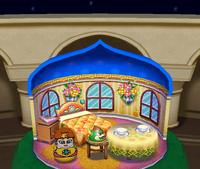 One of the modes in this game is Present Mode. This mode allows the player to see presents and other collectables they've earned. Each playable character has their own present room, in which they have items themed around them plus one Bowser-themed item. Here are the descriptions of each present:
| Item | Description | Criteria for Unlocking |
| --- | --- | --- |
| Daisy's Doll | This is a Daisy doll. She's our fresh-faced heroine. | Complete Koopa's Seaside Soiree with Daisy. |
| Daisy's Side Table | This is Daisy's side table. Don't peek in her journal! She won't like it. | Complete Boo's Haunted Bash with Daisy. |
| Daisy's Bed | This is Daisy's bed. It looks hard, but it's really good for the spine. | Complete Toad's Midway Madness with Daisy. |
| Daisy's Table | This is Daisy's table. I think Goomba made it for her. | Complete Shy Guy's Jungle Jam with Daisy. |
| Daisy's Flowers | These are Daisy's flowers. She picks them herself. | Complete Goomba's Greedy Gala with Daisy. |
| Bowser's Teapot | This is Bowser's teapot. It bubbles like magma. | Complete Bowser's Gnarly Party with Daisy. |
Quotes & Profiles
Quotes
Being Chosen: "Good choice!"
Got an Item: "Yay!"
Won a Mini-Game: "Yay! Daisy's the Winner!" (borrowed from Mario Party 3)
Lost a Mini-Game: "Oh, I lost!"
Won a Board: "I'm the Party Star!"
Surprised: "Wow!"
War Cry: "Oooooh!"
Shocked: "Oh!"
Defeated: "Aaaah!"
Profiles
Guide Bio: "Daisy is a feisty girl who loves to get dirty and play with the rest of the crowd. Luigi has quite a crush on her, and it's rumored there is an attraction between the two. Waluigi also happens to have a crush on Princess Daisy, which may well cause some trouble at the party..."
Bio (Party Mode): Daisy is a bit of a tomboy. If cornered, she'll use a Warp Pipe!
Gallery