Jurassic World: Dominion Dominates Fandom Wikis - The Loop
Play Sound
"Daisy is a bit of a tomboy, and her shooting is first class. She is always full of energy."

Princess Daisy's Manual Bio, Mario Hoops 3-on-3
Mario Hoops 3-on-3 (also called Mario Slam Basketball) is a basketball game in the Mario sports series first released on the Nintendo DS in July of 2006. This game takes the rules and playstyle of basketball and adds a Mario twist. It's the first Mario sports game wholly dedicated to basketball. Mario Hoops 3-on-3 received a follow-up in the form of Mario Sports Mix and was rereleased on the Wii U in 2016.
About Daisy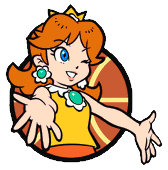 Daisy is one of the ten playable characters in the starting roster of the game. Daisy's character type is Technical, meaning her strong suit is aiming. Daisy shares this character type with Peach, Waluigi, and Final Fantasy guest character White Mage. Most of the characters are given a "Baller Name" on the game's website. Daisy's Baller Name is Cash Money Coin Collector.
Daisy is given her own court in this game, Daisy Garden. Fittingly, it's the third course in the Flower Tourney.
Quotes & Profiles
Quotes
Note: Most of Daisy's quotes in this game are taken from Mario Kart: Double Dash!!
"Yee-haw!"
"Woo-hoo!"
"Whoa!"
"Yeah!"
"Aww, brutal!"
Profiles
Manual Bio: "Daisy is a bit of a tomboy, and her shooting is first class. She is always full of energy."
Site Profile: "Diamonds might be a girl's best friend, but tons of coins are a good substitute. Daisy's speed and quick hands help her pile up the bling. When it's time to cash in, count on her Flower Shot every time."
Gallery